Cotswold Climate Investment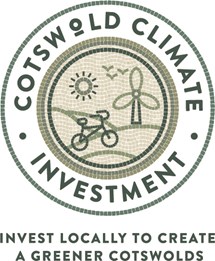 Cotswold District Council has launched Gloucestershire's first Community Municipal Investment (CMI), meaning local people can now invest directly in a cleaner, greener, healthier future for all.     
We want to see climate and ecology solutions developed with, and supported by people. We want to help take communities on our journey rather than being 'done to'; this means involving communities in our carbon zero journey. To this end, we are giving Cotswold residents the chance to invest directly in actions that tackle the climate and ecology crises.
Everyone has the opportunity to get involved by investing from as little as £5 into this Climate Investment, which aims to raise £500,000 to support a range of Cotswolds based projects that will help tackle the climate emergency. 
This is the first investment of this type to be issued by the Council, and you can put your money to work to make a real difference towards delivering the Council's 2030 vision to cut emissions, increase active travel and create safer, cleaner streets across the District.
The Cotswold Climate Investment is being launched in partnership with Abundance Investment, the UK's first and biggest regulated green investment platform. The minimum investment is just £5, and this investment lets investors earn 2.1% interest per year fixed, before tax, with interest and capital repayments every 6 months across the investment term. It will also be eligible to be held in an Innovative Finance ISA, which means that people will be able to get tax free investment returns.
Invest in a greener future for the Cotswolds
What will the investment support?
Your money will support a range of projects, including:
Installing off-street EV charging points around the District to encourage Electric Vehicle take-up.
By March 2023 the first phase of the programme will install 10 charging points:  
1 at the Beeches car park in Cirencester, 
4 at the Council Offices in Cirencester, 
4 at the Rissington Road car park in Bourton on the Water
1 at Old Market Way in Moreton in Marsh.  
2 of these charging points are already in place but will be updated to the latest technology.
Improving the energy efficiency and reducing carbon emissions from the Council's offices in Cirencester, including:  
Installing solar panels 
Updating lights to LEDs to reduce energy consumption 
Insulation to reduce heat loss
Alterations to the building to enable more efficient use of space and energy
Ongoing support and achievements
We have already made great strides in our journey and have supported businesses, partners and communities to reduce emissions. We will continue to work hard to reduce the impact of our operations, and encourage others to do the same. I am delighted that we have already achieved the following: 
Decarbonising our own buildings and assets; for example we have just completed major refurbishments of energy systems in the two leisure centres.
Encouraging residents to reduce their waste and recycle more by providing a recycling service that includes the collection of paper, cardboard, mixed glass jars and bottles, mixed plastic bottles, pots, punnets, tubs and trays, cartons (tetrapaks), small waste electrical items, household batteries, clothes and shoes.
Creating streets that are friendly for walking and cycling.
Creating green infrastructure through our 'Green Infrastructure Strategy'.
We will have a new Local Plan that is 'Green to the Core' by 2024. This enables us to ensure that climate change is considered in all aspects of the future development of Cotswold District. 
Encouraging residents to switch to Electric Vehicles by installing and updating electric vehicle charging points across the District. 
The aspiration to encourage residents and businesses to use renewable energy and aims to put in place plans to launch a street by street 'solar bulk buy' scheme.
Launched our nationally recognised Net Zero Carbon Toolkit.  Pulling on latest guidance and best practice, the Net Zero Carbon Toolkit is a practical, easy to follow guide to help plan a net zero housing project.  It is aimed at small or medium-sized house builders, architects, self-builders and consultants, the toolkit covers a range of steps - from pre-planning right through to construction - for delivering net-zero carbon, low-energy homes.  The toolkit also provides homeowners looking to retrofit or extend their existing property, guidance and advice on what they need to consider and how they can implement energy efficiency measures and begin the process of decarbonising their homes in a more affordable, phased approach.
Supporting business throughout the District to grow in a green, sustainable manner with its Green Economic Growth Strategy.
Working with landlords on the minimum energy efficiency standards to improve energy performance for rental properties.
Working with partners such as Severn Wye Energy Agency to support homeowners and tenants to improve energy efficiencies in their homes.
Working with housing providers and house builders to build net zero carbon homes.
To drive through change, both as part of Council service delivery, and in the community the Council has appointed a Climate Emergency Manager.
To find out more about this investment opportunity please visit: https://www.abundanceinvestment.com/cotswolds 
Related Pages