The Leader of the Council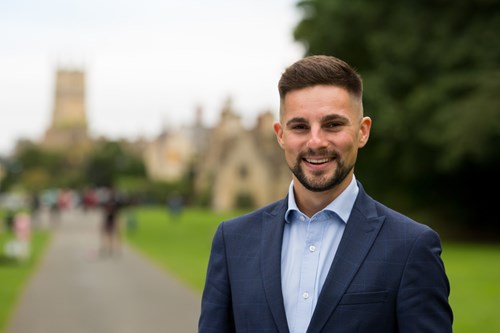 Councillor Joe Harris is the Leader of the Council. His role is to have overall responsibility for the vision and corporate objectives of the council. He is the principal spokesperson for us and represents our views to the public and other organisations we work with.
The term for leader runs until May 2027.
Biography
Joe has lived in the Cotswolds all his life. He attended Cirencester Deer Park School and Cirencester College. Working at a local Youth Club inspired Joe to get involved in local politics.
When he was 18 Joe was elected to Cotswold District Council, and re-elected in 2015 and 2019. He was the Mayor of Cirencester in 2013, and then became Leader of the Council. He is also a Gloucestershire County Councillor.
Joe is a big football fan and supports Swindon Town and Chelsea. In his spare time he enjoys running and Italian food.
Priorities for the Leader
Councillor Harris wants to make sure the Cotswolds is a beautiful place to live, work and visit and is passionate about:
improving access to mental health support
delivering genuinely affordable housing
tidying up our area
Since becoming Leader, he has:
overseen the implementation of our corporate strategy
made changes to the senior management team
overseen the declaration of a climate emergency
developed the economic development strategy
pushed for greater council transparency by webcasting council meetings
Financial allowances
Councillor Harris gets an annual basic allowance and a Leader's special responsibility allowance. Find out more about councillor allowances and the code of conduct for councillors.